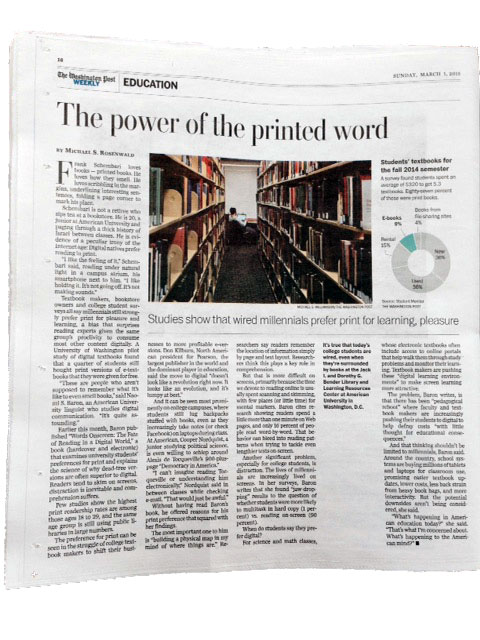 This past Sunday, there was an interesting article in The Washington Post Weekly titled "The power of the printed word".
It appears that millennials strongly prefer print for pleasure and learning over digital content.
Research is showing that digital readers tend to skim the content and distraction is "inevitable". Students were asked if they were more likely to multitask in hard copy (only 1 percent) vs. reading on-screen (90 percent). Sadly, educators appear to be pushing toward digital content because it is cheaper, but this may come at the cost of our children's education.
A recently published book, "Words Onscreen: The Fate of Reading in a Digital World", written by Naomi S. Baron, an American University linguist, examines college students' preferences for print and states why print is superior to digital. One student at American University was even willing to carry around the 900+ page "Democracy in America" because he couldn't imagine reading or understanding the book electronically. Studies have shown that electronic readers spend their time scanning and not reading, leaving little time for mental markers.
What's frightening is that schools around the country are purchasing millions of tablets and laptops for classrooms with little thought of the downsides. Ms. Baron is concerned about these trends in American education and the effects it will have on the American mind.
So the next time you're looking to digest important material, pickup that book and put down that tablet. It looks like print will have its place in the classroom for many generations to come.