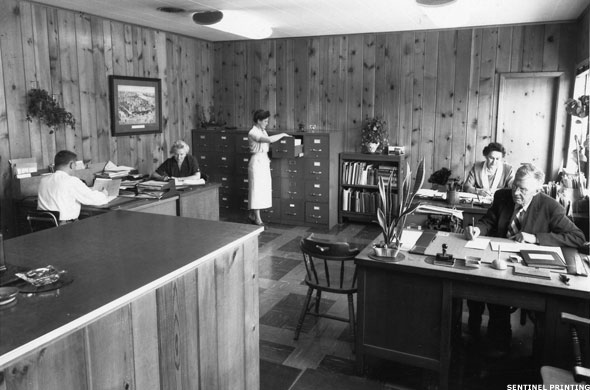 Sentinel Printing
Hempstead, N.Y.
13 employees
Sentinel Printing can trace its beginnings to 1858, when the commercial printing and graphic communication company was a newspaper. The $2.1-million revenue company is probably the biggest example among our list of companies that has had to completely overhaul its business model or risk going out of business.
President Glen Boehmer has been with the company for 25 years after his father bought the company from the original family that owned it for four generations. Boehmer attributes Sentinel's survival to customer service, attention to detail, and, of course, its ability to transform.
"The number one thing is you can't be complacent. The technology will outpace you if you really sit on your laurels. Complacency is really dangerous. It's important to remember your core strengths. That's one of the reasons we really survived," Boehmer says, echoing Larson & Darby's CEO Bill Waldorf.
"We're still here because we are that resource. We have a core expertise in how to get the message out to the clients," regardless of whether that message is in an email, on a Web site or elsewhere, he adds. The company started as a newspaper in a barn, but Sentinel couldn't compete when Cablevision's (CVC) Newsday took over and starting using its printing presses for commercial jobs. Through the years, Sentinel evolved from Letterpress printing to offset printing to digital.
"If we didn't evolve … we probably would have been out of business," Boehmer says. That also includes expanding from its traditional local clients. Client sizes now range from the local dentist to E*Trade (ETFC). The company has also done various jobs for commercial clients in New Jersey, Virginia, even as far as Nigeria. "We have a little more firepower than the small local resources.
The people I have here we've all been in the printing industry for a number of years, we're a diverse bag. It helps complement jobs that may be difficult to do," Boehmer says. Sentinel is up against companies like FedEx (FDX), Vistaprint (VPRT) and Office Depot (ODP), which Boehmer says attracts a different kind of customer. "We're a boutique printer that handles the kinds of print jobs that matter to companies. Projects that people do [where] they want the lowest cost — that's not where we fit,"
Boehmer says. "We survived for 150 years because the relationship is always more important than one transaction."