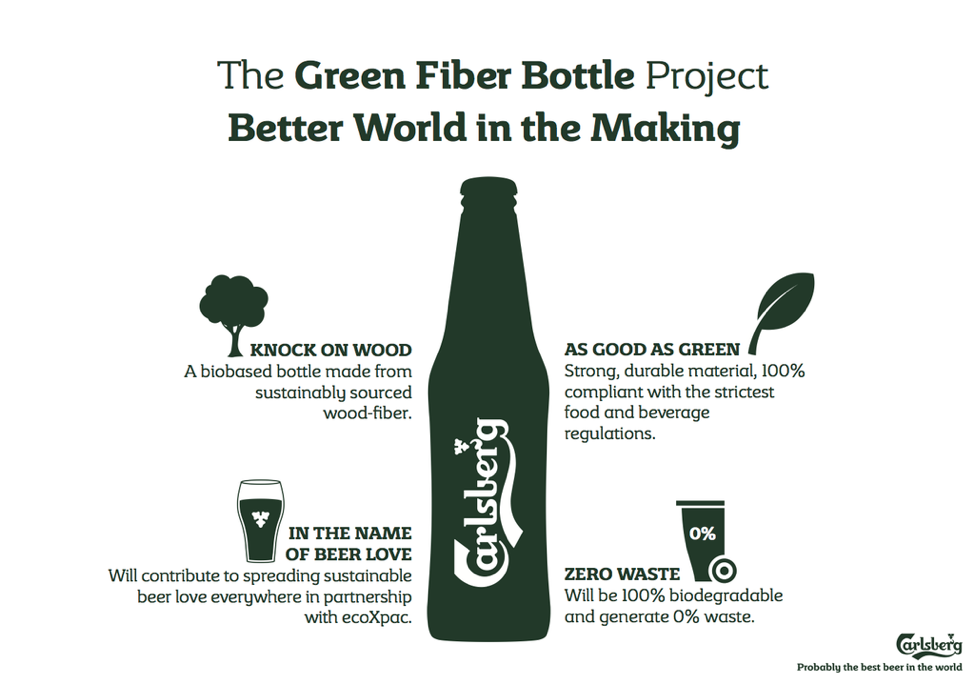 Paper Bottles? What a great concept. Utilizing a sustainable raw material such as wood pulp to replace the plastic bottle is a brilliant, challenging concept.
A company called EcoXpac out of Denmark is creating this reality by teaming with the Danish Technological Institute, the Business Innovation Fund in Denmark and Carlsberg Breweries.
The Green Fibre Bottle is an ongoing development project with the goal to produce an environmentally friendly bottle that is completely biodegradable. No plastic liners… no plastic tops… a Cradle to Cradle ® packaging solution for eco-friendly manufacturers. The typical environmental benefits include those of other paper products: pulp is a renewable resource; "paper" bottles can enter the conventional cardboard or paper recycling stream, and they will decompose directly into nature.
The not so obvious advantages are unique to the process that EcoXpac is creating. The production unit for the Green Fibre Bottle is small and can be installed wherever bottles will be filled, saving space, transportation costs of premade bottles (and therefore energy) and the need for warehousing unfilled bottles. Although it wasn't discussed in their materials, it also creates the concept of create on demand, whereby only bottle that are going to be filled need to be made (similar to a print on demand model).
There are other distinct advantages over glass bottles. Glass can be pretty dangerous around the pool and bare feet. Glass is also expensive to recycle. Safety concerns make glass an enormous and costly challenge for recycling facilities.
On the other hand, the EPA reports that only 9 percent of the total
plastic waste generated in 2012 was recovered for recycling1 and 38 million plastic bottles go to the dump each year in America from bottled water (not including soda). Another sad statistic is that 90% of Americans are testing positive for the plastic chemical BPA (Bispenol A).2
Is the paper bottle the silver bullet for landfill waste and sustainability? I think not. After all, it would take two worlds filled with trees to satisfy today's demand for bottled products (I'm exaggerating a little). We can only hope that common sense eventually prevails where people reuse their bottles and that they understand that in most cases (in the United States) that their tap water is as pure as the bottle water they're purchasing.
Cheers,
Glen
Notes:
http://www.epa.gov/epawaste/conserve/materials/glass.htm
http://www.cncahealth.com/explore/learn/green-living/the-low-down-on-bisphenol-a-(bpa)-the-facts-you-need-to-know
Bisphenol A (BPA) is a chemical produced in large quantities for use primarily in the production of polycarbonate plastics and epoxy resins