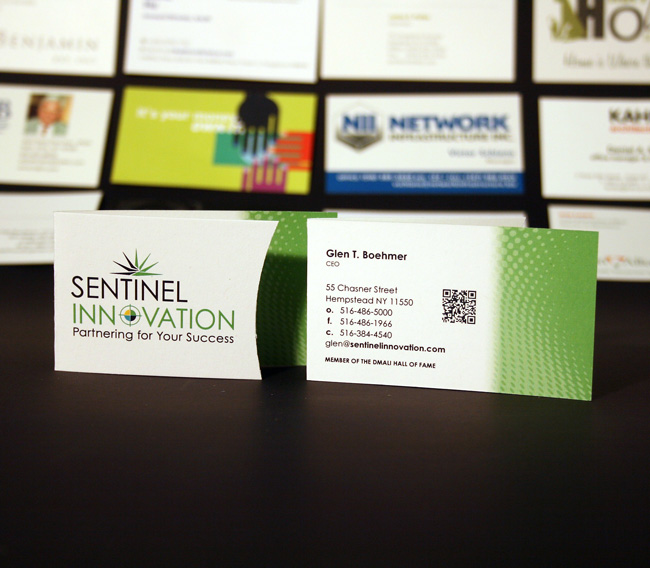 Forbes posed a question to the experts on the Forbes Agency Council; an invitation-only, fee-based organization for executives in successful public relations, media strategy, creative and advertising agencies. Is The Business Card Dead?
Based on the responses, a more appropriate question might have been: How are successful executives and entrepreneurs using business cards today?
Far from being dead, the role of business cards has evolved to meet the needs of the digital age.
"A business card is, in many cases, the first tangible impression of your business, and it's much more personal than an email or a LinkedIn invitation," said Ahmad Kareh of Twistlab Marketing in response to the question posed by Forbes. "Beyond that, business cards that are creative and stand out aren't only sticky and memorable, but they get shared with more and more people, continuing to promote your business and brand."
At Sentinel Innovation, we understand the evolution of business cards impacts the way they should be printed.
At one time, designing and printing business cards was a simple process.  Business cards were more about function than form in those days. Oftentimes the most creative aspect of the job would be picking a font.
"When I receive a business card, I create an opinion about the company as soon as the card touches my hand," Chris Ake of Grand Apps told Forbes. "Is it thin and flimsy? Is it thick cardstock? Was it printed? Was it embossed? Is it a traditional business card size? To me, having a quality business card equates to having a successful business."
If you want a business card that will tell prospective clients and contacts that you are someone to be reckoned with, you need a printing company in NY that can work with you to produce a card that speaks volumes.  From the quality of the cardstock to the colors, we can bring your designs and your vision to life.
What kind of business cards have made an impression on you recently?  Were they bold and colorful? Did they have a unique shape?  Was the look and feel of the card consistent with the branding of the organization it represented?  Popular trends for business cards in 2018 include the use of large typefaces and the kind of simple designs that stand out.
The Future of Things, a website that has been bringing unique and fun content on science, technology, and medicine to the public since 2006, agrees that the way we use business cards is changing.  "Business cards are no longer simply something to dish out to your connections with your contact details on them, they are modernizing as technology develops, and now are an important marketing tool when it comes to getting new business leads," they say. "They are becoming increasingly important – so if you have a business card that truly stands out, there is more chance of you turning that contact into a potential business."
"Remember your business card could be the first thing that people see when they think of your brand – so it's important that you create the best first impression not only when it comes to the design, but the materials used," the folks at The Future of Things advise.
When considering options for business card printing in NYC and Long Island, we hope you will consider the fresh ideas and novel solutions available from Sentinel Innovation.  In addition to quality printing, we offer creative design services that deliver eye-catching, market-relevant branding so that you and your first impression will be memorable in all the right ways.